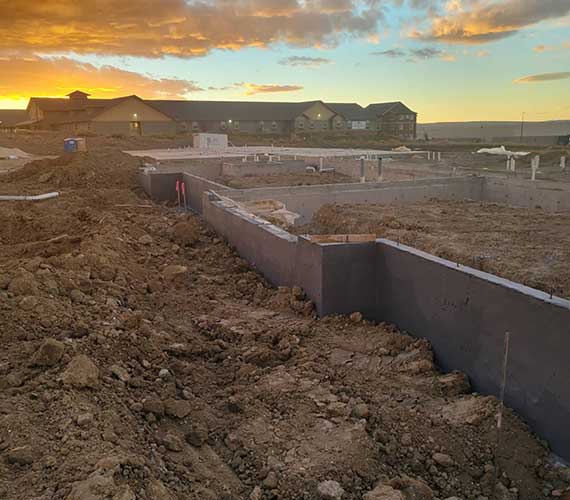 Our Services
Browse our full range of services below to learn more about how Johnson Environmental LLC can help you improve energy efficiency, save on energy costs, and reduce your environmental footprint.
Affordable/community housing consulting.
Affordable/community housing construction
Blower door testing
Plan modeling
IECC code compliance
Duct testing
Thermal imaging
Radon testing
Performance consulting
Energy audits
Energy Star inspection
Lighting retro refit
Tax credits
Rebates
Home inspections
Energy Solutions for Homebuilders
As part of our energy-efficient solutions, we work closely with your architects and engineers to reduce energy costs and environmental impact while making your house more energy efficient. In addition to HVAC (heating, cooling, electrical), we also offer Energy Star inspection services, solar panels, SIP panels, and geothermal energy solutions.
Pre Planning
Our preliminary planning review is tailored to the needs of fast-track projects and foundation permit requests. Our review encompasses an initial analysis of code compliance, use and occupancy category, type of construction, height/area measurements, evacuation pathways, fire-resistance building needs, and foundation design.
2012 & 2015 IECC Code Compliance
Our team will conduct a comprehensive review of design drawings and specifications to meet the above requirements, including:
A code compliance and violations checklist will be used to ensure the structural integrity of the building.
Inspections will be conducted during every step of the construction process to safeguard the building.
After the construction completion, a final inspection will be done to test the performance of the commissioning and blower door.
ICC 700 2012 National Green Building Standard (NGBS)
The ICC 700 2012 National Green Building Standard (NGBS) is an ANSI-approved, third-party certified residential building standard that promotes sustainable and high-performance construction to mitigate environmental impact and conserve natural resources. It embodies practices that address rising energy costs, water conservation, air quality enhancement, and other key issues in the sector. The NGBS certification program is divided into two: building projects and land development projects. Four levels of certification are available for each one, ranging from Bronze to Emerald for buildings and One-Star to Four-Star for land development. Gathering information about green building initiatives is a great way to increase your efficiency and sustainability. You will be able to achieve your certification level by incorporating green features, amenities, and products with the help of our team of specialists.
Energy Star (New Buildings)
Strict EPA criteria must be met when designing a project to qualify for Energy Star certification, the highest accolade of energy performance. Energy Star-certified new buildings provide improved energy efficiency and better value in comparison to properties that do not have an Energy star certification, making them an excellent investment. Once a building is constructed, we will have an Energy Star inspection conducted to see if your building will qualify for the energy star certification.
To help homeowners achieve Energy Star single-family certification, our team offers consulting services in the following areas:
Administration of portfolio manager projects.
Project certification management includes site visits and field testing by professionals.
LEED Building
LEED is a Green Building Certification Program dedicated to finding the most efficient strategies and practices for reducing resource consumption. The program provides a framework for constructing healthier, more cost-efficient, carbon-positive buildings. It is internationally acknowledged as a symbol of sustainability, thanks to the hard work of countless committed organizations and individuals leading efforts to transform the market. To receive LEED accreditation, projects must fulfill certain prerequisites and accumulate points according to their chosen rating system. LEED-certified buildings save money, boost efficiency, reduce carbon emissions and create healthier environments for people. They play an essential role in tackling climate change and accomplishing ESG objectives, increasing resilience, and supporting more equitable communities. Our experienced professionals can assist with all stages of LEED implementation, from design and construction to neighborhood development and home building.
Schedule a Consultation Today to Learn More About our Green Energy Solutions.
Johnson Environmental LLC is here to make sustainable building and construction easier. As a leader in green energy solutions, we provide affordable Energy Star inspection services, performance modeling testing, and rating options to help you achieve your environmental impact goals. We can create a custom energy portfolio tailored to your business needs, allowing you to be an efficient guardian of resources, improve your company's reputation, and reduce its carbon footprint. Get started today; give us a call at (605) 940-0759.